How Sardine wins 7-figure deals, accelerates time to close by 20%, and saves months of precious engineering hours with Coast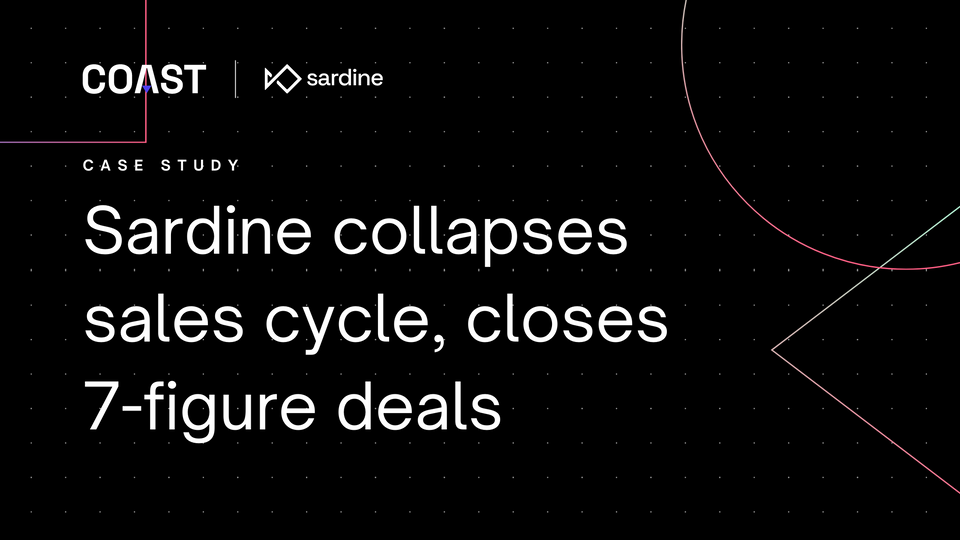 Sardine's Lead SE Pete Walton and Head of Sales Myles Blumberg dive into how Coast has accelerated revenue growth and led to step-change improvements in the buying experience.
Before Coast, Sardine operated just as any other API company does: cookie cutter demos and draining solution engineering resources. Read on to see how that all changed.
GET /problem
Sardine struggles with conveying the API's robust capabilities and wide-ranging use cases. The sales team cannot demo on the fly, and the current demo approach used a one-size-fits-all interface.
On the heels of an a16z-backed  $51.5M Series B, Sardine set out to scale their mission to enable safer, faster payments for the financial world. This audacious mission requires an equally powerful engine in the background: the Sardine API.
But how do you take such a powerful and flexible platform and easily convey its value to potential customers?
"Our product is complex, there was never a point where our sales team could take on the onus of doing a demo, especially on the fly," said Head of Global Sales at Sardine Myles Blumberg.
"But everyone should be able to demo their own product — it's a problem when you can't, and when you need product, engineering, and design teams to stitch together demos it's even more problematic."
Sardine's API is powerful, boasts extensive technical breadth, and is intentionally flexible to support diverse use cases. However, these same strengths presented a daunting challenge when it came time to convey Sardine's value to prospects.
"We had a one-size-fits-all page that wasn't resonating with customers. It was a bit of 'throw up on a page', with a lot of hypotheticals that got very confusing", said Sardine's Lead Sales Engineer Pete Walton. "As more use cases started popping up, we knew we needed to effectively demo what you could build on our API, but this was not easy."
As Walton explained, "the team spent a couple weeks building out specs, user stories, and designing wireframes. When we realized the engineering resources we needed to dedicate to this initiative, I began to question the time we were spending."
Yet, these issues couldn't be ignored. As each day went on, more prospects asked for demos, more use cases emerged and Sardine needed infrastructure to scale their Sales and go-to-market functions.
POST /solution
Sardine partners with Coast to streamline the creation of powerful, personalized experiences integrated with the API. All without straining engineering resources.
With growing pressure to solve their demo pain points, Sardine partnered with Coast in early 2023.
"This was exactly what we needed," said Walton. "This would supercharge our demonstration capabilities in minimal time without having to involve any engineering resources".
Today, Sardine can instantly create personalized demos for all their prospects in seconds, showing the powerful applications that can be built on top of Sardine's API. Using the Coast platform, Sardine has built interactive demo components to get prospects to that aha moment as quickly as possible.
"Coast is intuitive. It really takes a lot of the legwork of having to build custom demo sites and let's you plug and play APIs and build. It has that wow factor to it. It builds instant credibility and trust with the customer," said Walton.
Sardine's sales reps use Coast too, "Now, anyone at Sardine can spin up a demo with a prospect in real time to get people engaged faster…that's powerful," said Blumberg.
Today, the team has a suite of demo use cases built out in the Coast platform and has created hundreds of personalized experiences for their prospective customers.
TRACE /results
Sardine's partnership with Coast resulted in sales empowerment, faster value delivery, and game-changing customer impressions.
In just the first couple of weeks of working together, Sardine had built out powerful API demos for all their core use cases. In doing so, they've empowered their sales team to run demos, without engaging Product, Engineering and Design teams to create or maintain their demo environments.
As Walton described, "it's enabling our sales team. Both technical and non-technical, and it frees up SE time. My goal is to only have SEs really working on more enterprise and complex solutions, so now if it's a simple sell, then an AE can own that demo."
For Blumberg the importance of a personalized, instant demo is simple:
"It's just being able to unlock revenue quicker with Coast. We've seen time to close shortened by 20%. We're basically skipping that time between a discovery call and a demo call. We're getting prospects to value faster."
The Sardine team uses Coast to showcase their APIs to multibillion dollar companies, most recently using a Coast demo in a 5-hour technical workshop with a Fortune 500 company, and has used Coast to help close multiple 7-figure deals.
The team has even started to use Coast in new parts of the organization outside of sales.
"The sales cycle doesn't end with signature," said Blumberg. "There needs to be continuity around how everyone is connected and Coast allows people to connect across disparate teams, through implementation and even later on with upsells in being able to show all the features we have to offer."
"[We use Coast] to evaluate knowledge of the Sardine product when interviewing, and to qualify prospective employees on both the sales side and the technical side," explained Blumberg.
The benefits Coast provides has added tangible value to the Sardine team, but also arises frequently in other ways. "We now hear that was a fantastic demo from more customers than ever before, and that first impression matters," said Walton.
"We see this partnership growing in the long term. We love the tool. Our AEs and SEs love the tool. It's really proven to be a game changer for us."