How Column Tax grows 200% with scalable API demos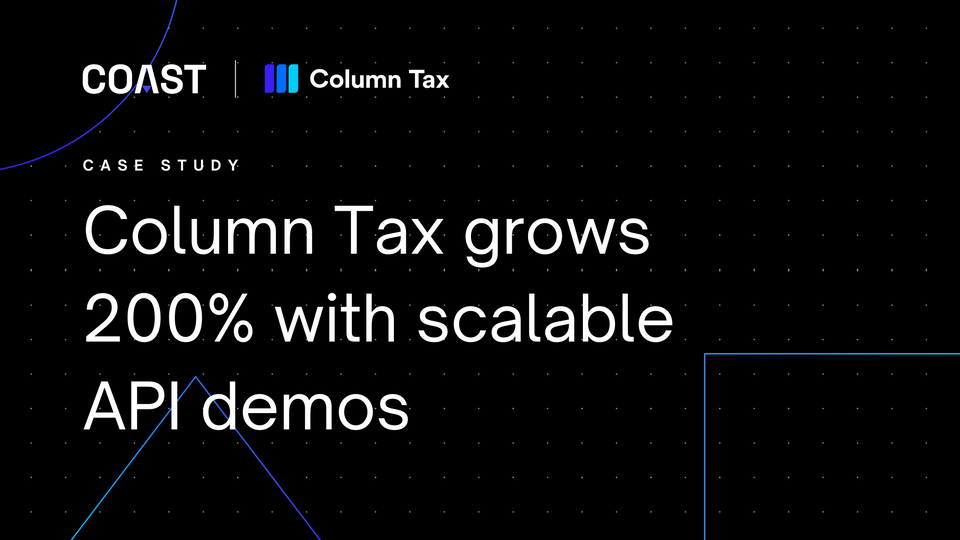 ---
Column Tax Co-Founder & CEO Gavin Nachbar outlines the difficulties in building customer trust with an API-first platform.
Nachbar describes in detail how the Column Tax team was unable to fully showcase the API product suite, which led to reliance on more ad hoc and generic design mockups.
Nachbar discusses the paradigm shift after partnering with Coast and how the team now wins immediate trust with customers, leading to concrete improvements in cost savings, revenue growth, and new market share.
GET /problem
Column Tax sells with verbal hypotheticals and struggles with sophisticated buyers.
Gavin Nachbar & Michael R. Bock founded Column Tax, a modern embedded tax-filing platform, in 2021. As the first ever IRS-authorized API-first tax filing product, it integrates the tax filing experience into apps that people already use.
Most recently the team raised a $21.7M Series A in 2022, led by Bain Capital Ventures to fuel its growth.
With customer acquisition on their mind, Nachbar and the Column Tax team set their sights on enhancing customer trust.
And why is trust so important to customer acquisition?
"API buyers are sophisticated. They call you out if you talk in hypotheticals. They don't want to hear about what it could look like, but rather what it will look like with their product," Nachbar says.
Column Tax experienced this reality on a daily basis.
The team built generic design mockups for prospects, which fell far short of enabling the customer to feel and experience the platform on their own. Not to mention, any time that a customer's API use case fell outside of the original design scope, Column Tax needed to build something completely bespoke and personalized. They were limited in what they could show, even though the product itself could do so much more.
"We came across as almost closed off. But it obviously wasn't intentional. It was purely a restriction of how we could show off our platform at the time. We couldn't show the pre-filling in software, which is part of the magic of our platform. We had to show it in Figma and disclose to customers that this is what our platform will look like," says Nachbar.
The team then turned to repurposing an internal QA tool, but it too had limitations: no personalization, no interactivity, and no room for adapting the API flow to the buyer's use case.
After getting over the hurdle of the live demo, next came a bigger obstacle: empowering the champion to demo internally.
"Links would expire and we'd need to send them instructions manually on how to optimize the screen for mobile," Nachbar recalled.
Frustrations grew and buyer journeys suffered. They needed a better solution.
"With APIs, the level of tooling needed to demonstrate the magic of your product is a lot of work. The engineers needed to build, maintain and troubleshoot. Those engineers could either be working on that demo tooling or making our product better. The decision was easy for us: we could dedicate engineers to build and maintain this QA tool or focus on improving our core product."
POST /solution
Column Tax is finally able to show off the complete API suite at scale with Coast.
"We didn't know it, but we were attempting to recreate versions of Coast on our own."
Column Tax inked a partnership with Coast in early 2023 to completely revamp the way it visualized the platform for customers.
With Coast, the Column Tax team now builds powerful, personalized, and complete representations of its API platform in fewer than 5 clicks, instead of hours of engineering work.
Whether it's a technical workshop with a customer, an effective and stable leave-behind demo for a champion, product demos at industry events, or implementation support, Coast has significantly leveled up the way in which Column Tax showcases its software to the market.
The sales and solutions engineering teams now provide customers with a demo of Column Tax that enables them to actually feel, experience, and interact with the entire platform on their own, getting to a true level of product understanding faster than ever before.
Prospective customers now engage on a deeper level with the APIs by interacting live with the software and feeling what the platform will look like, instead of what it could look like.
There is no more speaking in theoretical terms, overselling customers, or talking about what could be possible. "We no longer have to feel like we are guarding our product."
Additionally, the team can now allow the Column Tax product to speak for itself before a prospect even engages with the sales team.
Simply put, Coast has helped address the gap in customer trust head-on.
"What Coast allows us to do is build trust with our customers in the sales cycle. I give them a Coast demo of our platform, I speak to customers using facts alone, and allow the Column Tax product to take center stage on its own during the buying process."
TRACE /results
Since partnering together, the team has grown top of funnel pipeline, moved up market, accelerated customer launches, and opened the engineering team up to focus exclusively on the Column Tax product.
Before Coast, the Column Tax team struggled to effectively show the complete platform to customers due to limitations with the design mock-up.
Nachbar underscored this gap and how Coast filled it immediately:
"These are the largest customers where the stakes are the highest. With Coast, we were able to move upmarket with our largest enterprise customer base by showing them our complete platform, establishing trust & allowing our product to speak for itself."
Before Coast, demos were more stressful.
There was fear that the more generic design mockups wouldn't fit the customer's need during the demo (and Column Tax would miss the opportunity to show the magic).
Nachbar outlined the difference after using Coast.
"Coast changed all of this. Demos went from being stressful to not - overnight. We were finally able to show our customers how data flows through the platform, which endpoints fit in where, the webhooks firing during the sequences, etc. In short, we could finally show off our software when it mattered most."
Before Coast, it was a burden to build, maintain, and troubleshoot the QA dashboard tool that was being used for customer presentations. Coast's product now empowers anyone at Column Tax, whether it be an account executive or a solutions engineer, to build powerful API demos in seconds. Now the engineering team can focus exclusively on the Column Tax core product suite, saving hours of work each week and over $100k of engineering costs to date.
Coast also allows the sales team to target the entire addressable market, irrespective of customer size.
Previously, Column Tax couldn't economically justify building demos for every customer due to extensive engineering work. However, with Coast, this all changed.
"Sales is timing. And timing is everything. Product managers, solutions engineers, and designers need to see the experience of our APIs to understand the product. Before Coast, it was just a black box. With Coast, we can send demos to prospects before even speaking to them. Now they finally understand our APIs, are ready for implementation during the sales process, and are launching their programs faster than ever before."
When it comes to working with the Coast team, Nachbar and team knew the company DNA was a match during the onboarding process.
"As founders, Michael & I pride ourselves on trying to be the most responsive partner with our customers. The Coast team gives us a run for our money. A one minute responsive time during onboarding blew us away and is what we strive for as a business with our own customers. Coast is the most responsive partner we have ever worked with as a business."
Gavin also has been impressed with the Coast team's ability to both quickly understand his team's problems and address them expeditiously:
"We had a really complex use case and drew up a very rough variant of what we wanted to show to our customers. Coast understood the problem immediately and had it available for us to use in less than a week, which unblocked us from pressing tasks with our customers."
The ethos of the Column Tax business is simplifying the tax filing process for its customers and allowing the API product to do the heavy lifting.
Building trust with customers not with hypothetical words, but rather with product.
"Having a way to demo our product that stands on its own and I don't have to voice over it is amazing. I can just show it, speak facts, and our product can simply stand on its own in front of our customers. That's what Coast does for us."